After analysing more than 1,000 raw foods, researchers ranked the ingredients that provide the best balance of your daily nutritional requirements – and they found a few surprises.
As many countries urge populations to stay at home, many of us are paying more attention to our diets and how the food we eat can support our health. To help sort out the fact from the fiction, BBC Future is updating some of our most popular nutrition stories from our archive.
Our colleagues at BBC Good Food are focusing on practical solutions for ingredient swaps, nutritious storecupboard recipes and all aspects of cooking and eating during lockdown.
Imagine the ideal food. One that contains all the nutrients necessary to meet, but not exceed, our daily nutrient demands. If such a food existed, consuming it, without eating any other, would provide the optimal nutritional balance for our body.
Such a food does not exist. But we can do the next best thing.
The key is to eat a balance of highly nutritional foods, that when consumed together, do not contain too much of any one nutrient, to avoid exceeding daily recommended amounts. That's especially important when we are thrown out of our usual routines, as so many have been with enforced isolation during the current pandemic.
Scientists studied more than 1,000 foods, assigning each a nutritional score. The higher the score, the more likely each food would meet, but not exceed your daily nutritional needs, when eaten in combination with others.
20. PACIFIC COD
72kcal, $3.18, per 100g
Closely related to Atlantic cod. Its livers are a significant source of fish oil rich in fatty acids and vitamin D.
NUTRITIONAL SCORE: 64
19. RED CABBAGE (v)
31kcal, $0.12, per 100g
Rich in vitamins. Its wild cabbage ancestor was a seaside plant of European or Mediterranean origin.
NUTRITIONAL SCORE: 65
18. GREEN ONION (v)
27kcal, $0.51, per 100g
Known as spring onions. High in copper, phosphorous and magnesium. One of the richest sources of vitamin K.
NUTRITIONAL SCORE: 65
17. ALASKA POLLOCK
92kcal, $3.67, per 100g
Also called walleye pollock, the species Gadus chalcogrammus is usually caught in the Bering Sea and Gulf of Alaska. A low fat content of less than 1%.
NUTRITIONAL SCORE: 65
16. PIKE
88kcal, $3.67, per 100g
A fast freshwater predatory fish. Nutritious but pregnant women must avoid, due to mercury contamination.
NUTRITIONAL SCORE: 65
15. GREEN PEAS (v)
77kcal, $1.39, per 100g
Individual green peas contain high levels of phosphorous, magnesium, iron, zinc, copper and dietary fibre.
NUTRITIONAL SCORE: 67
14. TANGERINES (v)
53kcal, $0.29, per 100g
An oblate orange citrus fruit. High in sugar and the carotenoid cryptoxanthin, a precursor to vitamin A.
NUTRITIONAL SCORE: 67
13. WATERCRESS (v)
11kcal, $3.47, per 100g
Unique among vegetables, it grows in flowing water as a wild plant. Traditionally eaten to treat mineral deficiency.
NUTRITIONAL SCORE: 68
12. CELERY FLAKES (v)
319kcal, $6.10, per 100g
Celery that is dried and flaked to use as a condiment. An important source of vitamins, minerals and amino acids.
NUTRITIONAL SCORE: 68
11. DRIED PARSLEY (v)
292kcal, $12.46, per 100g
Parsley that is dried and ground to use as a spice. High in boron, fluoride and calcium for healthy bones and teeth.
NUTRITIONAL SCORE: 69
10. SNAPPER
100kcal, $3.75, per 100g
A family of mainly marine fish, with red snapper the best known. Nutritious but can carry dangerous toxins.
NUTRITIONAL SCORE: 69
9. BEET GREENS (v)
22kcal, $0.48, per 100g
The leaves of beetroot vegetables. High in calcium, iron, vitamin K and B group vitamins (especially riboflavin).
NUTRITIONAL SCORE: 70
8. PORK FAT
632kcal, $0.95, per 100g
A good source of B vitamins and minerals. Pork fat is more unsaturated and healthier than lamb or beef fat.
NUTRITIONAL SCORE: 73
7. SWISS CHARD (v)
19kcal, $0.29, per 100g
A very rare dietary source of betalains, phytochemicals thought to have antioxidant and other health properties.
NUTRITIONAL SCORE: 78
6. PUMPKIN SEEDS (v)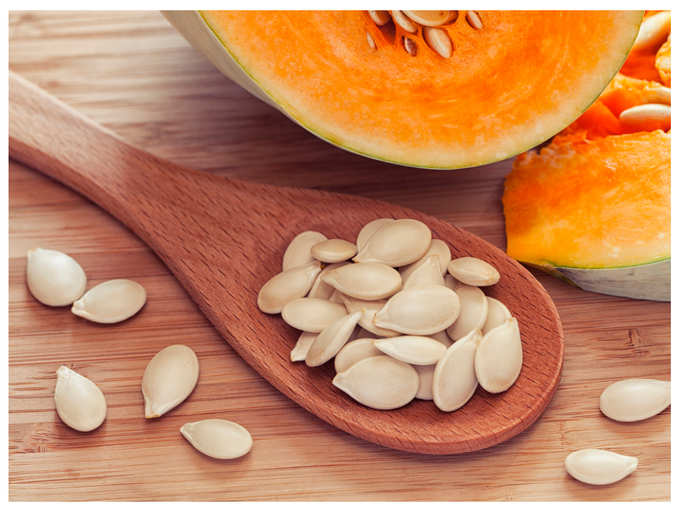 559kcal, $1.60, per 100g
Including the seeds of other squashes. One of the richest plant-based sources of iron and manganese.
NUTRITIONAL SCORE: 84
5. CHIA SEEDS (v)
486kcal, $1.76, per 100g
Tiny black seeds that contain high amounts of dietary fibre, protein, a-linolenic acid, phenolic acid and vitamins.
NUTRITIONAL SCORE: 85
4. FLATFISH
70kcal, $1.15, per 100g
Sole and flounder species. Generally free from mercury and a good source of the essential nutrient vitamin B1.
NUTRITIONAL SCORE: 88
3. OCEAN PERCH
79kcal, $0.82, per 100g
The Atlantic species. A deep-water fish sometimes called rockfish. High in protein, low in saturated fats.
NUTRITIONAL SCORE: 89
2. CHERIMOYA (v)
75kcal, $1.84, per 100g
Cherimoya fruit is fleshy and sweet with a white pulp. Rich in sugar and vitamins A, C, B1, B2 and potassium.
NUTRITIONAL SCORE: 96
1. ALMONDS (v)
579kcal, $0.91, per 100g
Rich in mono-unsaturated fatty acids. Promote cardiovascular health and may help with diabetes.
NUTRITIONAL SCORE: 97
Source: www.bbc.com