Dear Partner –

As lockdowns loosen, the economic devastation caused by COVID-19 remains. In many places, people are now paying significantly more for food due to supply chain disruptions caused by the pandemic. This trend, compounded by the steep rise in unemployment worldwide, is making it more difficult for many families to put food on the table.
 
Food banks in 44 countries are reporting a 50-100 percent increase in demand for service, according to a pulse survey conducted last week by The Global FoodBanking Network (GFN). Nearly all say that they need significantly more food, and that key staples like rice, wheat, and pulses are in high demand.
 
Karen Hanner, our Director of Food Sourcing and Strategic Partnerships, explains the challenges food banks face:"On one hand, because of the disruptions in the food service supply chain, food banks must access all the perishable food they can, as quickly as it becomes available. In the short term, here is an abundance of nutritious food with a limited shelf life that needs to be moved from one place to the next. On the other hand, food can't be distributed in communities through normal charity partners. There are limits in congregate feeding, so many food banks must take food directly to families and this is hard to do with perishable food. Many food banks must purchase more staple items to distribute more widely and efficiently."
 
Food price increases mean more expenses for food banks, during a time when financial donations are down, and need is surging. The price of rice – a key staple in many households across the world – climbed 11 percent in Thailand and 6.6 percent in Peru since March, for example. The cost of overall food items soared by 4.4 percent in Argentina and 2.6 percent in the United States, the latter of which was the highest rate of increase in more than fifty years. Thailand has been especially affected by the shut down of the tourism industry. The food bank there, which is purchasing rice for its meal kits, is struggling to expand service while food prices shoot up. "The desperation in some communities are becoming larger as the crisis goes on. Our job is to listen to these communities and see how we can maximize the impact of our contributions," said Bo H. Holmgreen, Founder and CEO of Scholars of Sustenance. The organization desperately needs more support for logistics to continue relief. 
Photo courtesy of Scholars of Sustenance Thailand

Rise Against Hunger Philippines is working around the clock to respond to both the changes in the food supply chain and the increasing volume of people requesting food.  "During 'normal' times, 70 percent of Filipino households are already food insecure, and 85 children die of hunger every day in the Philippines. The Covid-19 crisis will worsen this situation," warned Jomar Fleras, Executive Director of Rise Against Hunger Philippines.
 
Rise Against Hunger Philippines works with local government organizations to do house-to-house food distributions. In two months, the food bank has reached over 20,000 families and 31 hospitals and is working with more food manufacturers than ever before. And to help offset the effects of hoarding at stores, the organization increased its distribution of personal care products to vulnerable communities.
Photo courtesy of Rise Against Hunger Philippines

Over in Indonesia, FoodCycle recovered and redistributed surplus cooked food from wedding and banquet venues before COVID-19. Because of the health crisis, special events have taken a pause, drying up the food bank's primary source of donations. Now, the organization works directly with food companies, and uses incoming financial support to purchase products they cannot get from donations. They also assemble and distribute emergency parcels directly to struggling families in Indonesia.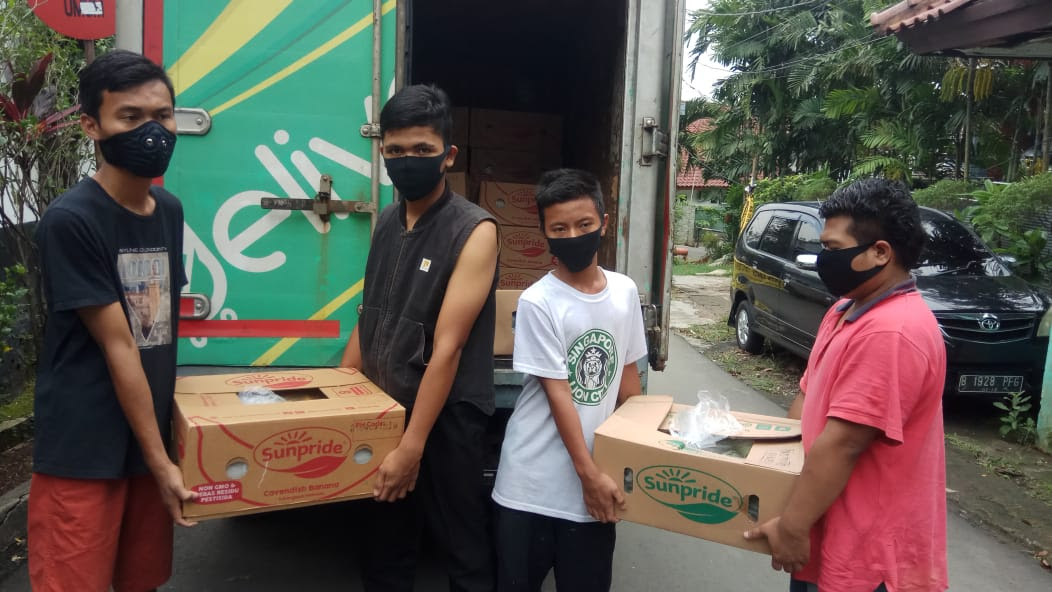 Photo courtesy of FoodCycle Indonesia

"GFN food banks see the severity of this pandemic and the long-term implication on the communities of which our food bankers are a part," Karen said. "They are not just serving anyone. They are serving their neighbors, their friends, and their communities. They understand that they are going to be deeply impacted in the long run."
 
How has this crisis changed our work at GFN?  Earlier this month we began intensified food price monitoring in all the countries where we work and are supporting localized purchasing strategies to make sure families have the basic necessities. We have also ramped up our investment in food banks to help cover the increased cost of foods and logistics. As movement restrictions loosen, we are working to uncover more ways to capture food before it's wasted and get as much of it as possible to vulnerable communities. Unfortunately, the effects COVID-19 has on people's access to food cannot be fixed overnight.

Please keep visiting our COVID-19 response page and make sure you're signing up for these regular updates. Our work – and the work of the food banks we serve – is only made possible thanks to partners like you.Together, we are fighting this hunger crisis caused by COVID-19. Thank you for your support and commitment!

 My best,

Lisa Lisa Moon
President & CEO
The Global FoodBanking Network
Authors