A major user of drones in farming, Brazil has established developers of unmanned aerial vehicles (UAVs) used in agriculture, forest and urban center mapping, and defense. Besides developing part of the technology, Brazil exports locally assembled drones. But there are challenges and opportunities for the country to standing side by side with leading global drone developers like China and the Unites States.
One company that develops drones with proprietary technology is Xmobots. Founded in 2007 with the support of an incubator of the University of São Paulo (USP), the company has invested since its earliest days in research, development and certification for believing that owning proprietary technologies was key to assure the security of equipment and operations.

Since then, with funding of agencies like São Paulo state government's research foundation Fapesp and National Council for Scientific and Technological Development (CNPq), the company has developed several models using 100% domestic technology. One of the company's main products is now an aerial vehicle that reaches five kilometers, a flight autonomy of one hour, and able to fly over 400 feet with the permission of regulator ANAC.

According to Xmobots commercial manager Thatiana Miloso, Brazil holds a"prominent position" when it comes to regulation and technology, and Xmobots is a global pioneer in the use of drones in sugarcane and cotton industry. Starting in 2022, the company aims to increase exports that now reach Angola, Chile, Peru and Argentina.

"Export operations will kickstart with the launch of a new drone line (expected for 2022) with a more plug-and-play maintenance. Our maintenances are quick now but still require some specialized labor, thus making overseas operations impossible," she says."With the launch of this new line, we'll first focus our expansion to Latin America and the US," she says.

Nuvem UAV

Another company in the industry that is preparing to go international is Nuvem UAV. Created in 2016, the company develops products in its headquarters in President Prudente, São Paulo, orders parts from overseas and assembles equipment in Brazil, as tech giants do.
Approximately 70% of the sales of the company are agricultural drones, but the company also operates in segments like environment, topographic mapping, and defense.

According to Nuvem UAV commercial director Roberto da Silva Ruy, agricultural drones increase productivity, cut costs and allow farmers to deliver a better product to the end consumers."Drones are very efficient and have a lower cost than using personnel on the ground or a manned aerial vehicle for mapping the crop and spraying the soil in a less orderly fashion. Analyzing where pest outbreaks are from above allows for applying pesticides just on those spots, thus avoiding the unnecessary use of the product. It cuts costs for farmers and generates a better product for consumers," Ruy says.
One product by the company, the executive says, stands out from all its counterparts in Latin America: it has a flight autonomy of up to one hour, thus allowing Nuvem UAV to widen business."Our main focus next year is extending our internationalization, branching out into Latin America, where we already export to Colombia and Paraguay, and reaching Central America and the US," he says.

Ruy believes that the use of agricultural drones is expanding both because the Brazilian market has a great potential in this sector, due to the modernization of its crops and cultivated areas, and regulations in the countryside are more flexible than in the cities.

For agribusiness and forests

Aerospace Industries Association of Brazil (AIAB) coordinator Nei Brasil says that the country is a longtime expert in developing high-tech aircrafts, which is expected to remain over the next years with drones. Apart from agribusiness and the defense industry, he says that drones can be used in construction and film industry."Drones will be increasingly present in the life of the society. Military and civil uses have spread in the last 20 years and new uses are under development," he says.

Despite the pioneering spirit of these companies, Brazil still faces challenges and can evolve in the development of technology, production and regulation. Jodir Pereira da Silva, coordinator of the Drone project of the State University of Campinas (Unicamp) and teacher of Unicamp's technical high school, says that, although Brazil has drones for specific uses as per its needs, such as agribusiness and forest mapping, the country is still no competition for China, for example, in the production of equipment parts. Rotors, i.e., drone motors, for example come from the Asian country.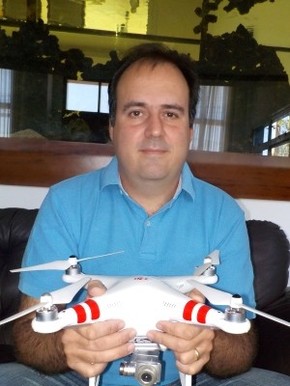 Besides the Chinese, the Americans are also experts in drone part and equipment development. In turn, the French and the Swedish develop specific parts like lenses and high-definition cameras. The Swiss have even created technologies that are tested over the Brazilian Amazon Forest."In 2017, the University of Zurich developed a monitoring drone and started using it in the Amazon. It's an equipment consisting of wings with solar-powered cells. It's able to fly for 31 days running without landing, and it was created to collect environmental data. It's used by the Swiss here," he says.

Bureaucracy

Furthermore, both Jodir and Nuvem UAV's Ruy say that Brazil must reduce the bureaucracy for the sector. Ruy points out that on many occasions imported parts that are used in the assembly line struggle with the bureaucracy of federal agencies. Jodir believes there're obstacles preventing a larger development in the industry.

"Some agencies overlap in the drone certification process," he says, pointing out that the equipment must be certified so that it doesn't invade the airspace of a manned aircraft and that the communication systems comply with the country's legislation rules.

In addition to exporting, Brazil could, Jodir says, boost the internationalization process through partnerships. Middle East countries, for example, use drones in the defense sector, which is not as widespread in Brazil as agribusiness is.
www.agropages.com